Disclosure: This website may receive compensation in the form of payment or product. Some content may include affiliate links. All posts are written based off of personal use and experience. Opinions are in no way influenced by compensation..
This is the question I get asked most, hands down.  How do you travel so much?
There are more ways to arrange travel than there are places to go!  But these are a few of the things that have worked for us.
Accomodations
We bought a time share.  Wait.  Before you start, realize that ours is not like the old fashioned time share.  We do not have one week at one resort once a year.  Our time share is very different.  Believe me, we went fully prepared to say NO!.  But when we heard how different this program was, be both agreed it would be a great opportunity for us.  We have over 60 different resorts, most in the US, that we can go to any time we want, no trading necessary.  Every resort is given a point value based on time of year, day of the week and size of the unit.  Most of ours come with a full kitchen, which I love!  I get tired of eating out every meal every single day.  Some times, I just want to cook a quick meal and get on with the sight seeing.  When you buy into our time share, you purchase a certain number of points.  You can choose how and when to use those points.  We can stretch our points really far by going Monday through Thursday and travelling off season.  I prefer to go some places when it is less crowded anyway.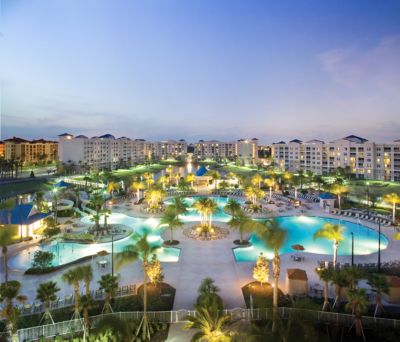 This is one of our favorite resorts in Orlando.  We always plan a day or two to just hang at this fabulous resort when we take a trip to Disney.  If you would like more information or a really inexpensive three day/two night stay at one of our condos, just shoot me an email to michelle@ tablefornine.com and I will send you a link to arrange a trip.
What about getting there, Michelle????
I'm getting to that.  Some places we drive to.  We don't mind car trips.  And we usually stop at some nerdy educational place along the way.  We geek out over historical markers.  If it's too far to drive to, or we are flying out of the country, we have a companion pass.  Which means that when I pay for my airline ticket, I get to take someone along with me for free.
How can I get one of those companion passes?  Well, we have a rewards card.  It takes 110,000 points to get one.  Again, if you are interested, send me an email to michelle@ tablefornine.com and I will send you a link to apply.  When you apply with the link I send you, you will get 40,000 points automatically.  Once you get to the 110k, you get a companion pass for the rest of that year and the entire year after that!  If you don't want to put your household bills on that card, there are other ways to get points.  We booked a trip through a program called rocketmiles and got 40,000 points for going to Cancun for three nights.  You can't beat that with a stick.  We booked a really reasonably priced trip and I earned a companion pass for a year and a half.
We have several other tips and tricks for inexpensive travel, but that's a lot of information for one blog post.  Keep checking back for more ideas, travel destinations, tips and tricks.  You can also follow us on facebook, instagram, pinterest or google+ to stay connected.
Happy Trails
from my herd to yours!